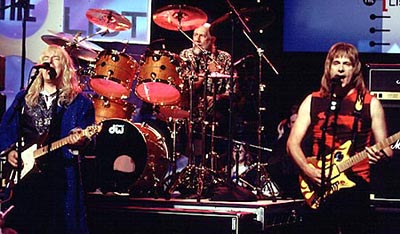 If you wish to contact me you can do so at knappg@att.net
Fender EVH Wolfgang
I went to the Fender booth at the NAMM show in January to check out the "new" Wolfgang. I have been getting a lot of questions regarding what I think about this guitar. I wish I could get excited about it, but I can't. While they have gone to some effort to say it is meaningfully different than the Peavey Wolfgang, I just don't see it. To me, it is a "replica" of the original. I listened to a very good player shred on it for about 10 minutes and it could have been a Peavey Wolfgang. The real problem for me is the price and the limited options. Right now it comes in Ivory, Black and Tobacco Sunburst. The price is $3K for ivory or black and $3,150 for the quilt top. Maybe it is just me but that seems expensive. I suppose that could be considered a bargain next to the EVH "art" guitar that came out a couple of years ago at $3,300. The good news is that this new offering will likely boost the value and popularity of the original Peavey EVH Wolfgang. I will eventually buy one of the Fender models when they hit the after market at lower prices in a year or two. How about an EVH striped version?,... although they would likely charge $4K for that! Click on the thumbnail pictures below for the larger image.
Sammy Hagar - Nice Interview / Article
Whatever your opinion about Sammy vs. Dave, you have to give the man his due. He has a tremendous amount of energy and enthusiasm for life and what you see is what you get. He has built the perfect life for himself. He builds Cabo Wabo clubs in great spots and he can go play there anytime he wants until he wants to go someplace else. He has his own tequila brand (2nd best selling specialty brand) and is now in the Rock'N Roll hall of fame. Interesting that he says he has made more money off his Tequila than the music! This is a good interview with him. I have the utmost respect for what he has accomplished in his life. He knows who he is and he doesn't try to be anything else. March 7, 2007. Click here: Sammy Hagar Interview.
GuitarShredShow.com - Mr. Fastfinger
This is a very cool site that must have taken the creators an incredible amount of time on the animation. It is very well done. I hope they keep adding to it. If you read the bio on the site you can see it was a pretty big project tha/t they had even bigger plans for. Http://www.guitarshredshow.com
The Worst Album Covers Ever
This was making its way around the Internet. It is pretty funny so here it is (click the link). Worst Album Covers Ever
The real number of first Year Quilt Wolfgangs may be closer to 1,000?
Over the more than three years I have been doing this site I have been surprised at how few first year quilts show up. I see more Custom Shop models and they only made about 500 of those. I was using a number of 2,000 on the first year quilts given to me by someone at Peavey as a "not more than" number. I have done further research and I now have reason to believe there may have been closer to only 1,000 first year quilts produced. If so, this is going to boost the value. I am trying to gather some hard facts on the numbers now. I do feel confident that the 2,000 number is too high. I will provide more information as I have it. (4-6-06)
Have you tried a vintage Peavey T-60?

Peavey's very first guitar that can be considered a market changer due to the revolutionary manufacturing techniques employed and new innovations featured on the guitar, was in production for 10 years from 1977 to 1987. These guitars are much better and cooler than most people would imagine. You can pick them up dirt cheap. Check it out... Peavey T-60
How does the cheaper Ernie Ball Axis compare to it's predecessor the Music Man EVH?
That is what I asked Rollie Delgado who was head guitar tech at Ernie Ball from 1991 to 2000 and worked on thousands of these guitars. Here is what he said: "The only differences between the Axis and the EVH signature are: The pickup switch was moved from the horn to down next to the volume knob; The axis also has a body bevel on the back, which the EVH does not; The neck width above the twelfth fret is also slightly wider on the AXIS. Pickups are the same as the EVH. Finally, The electronics routing on the AXIS is also a little different. If you look on the back of both and compare, the cavities are different. Other than that they are the same, same tone and feel. And the AXIS is much cheaper!"
Dave Barry Electric Guitar Piece
This is a Dave Barry piece from 1998 that I ran across that I thought was pretty funny for any of us "older" electric guitar enthusiasts. Click this link to read. Dave Barry on Electric Guitars
Buying and Selling on eBay
I have overall had good experiences with eBay but there have been some real problems too. Click here for some tips on buying and selling on eBay: eBay buy/sell.
Hollow Body Wolfgang Guitars Shown for First Time Ever
They are not supposed to exist. The story is that EVH has never seen them, much less played them but I can't verify that. Here they are and the story that goes with them. Click this link: Wolfgang Hollow Body Guitars.
Triple XXX and JSX Amps
I was at the PRS (yes - PRS) NAMM Jam at the Grove in Anaheim on Friday night of the NAMM show (January 2005). I went to see Mark Tremonti and Alter Bridge play. At the show I got to talk to James Brown for a little while since it was late and the crowd had thinned by at least 2/3rd. James worked for Peavey for 18 years until recently when he left to go to work for Kustom. He designed the 5150 with EVH and was Mr. Amp for Peavey. He is a super nice guy. I took the opportunity to ask him of all the amps he helped design and build for Peavey if he had a favorite. He said "Without a doubt the Triple XXX". I believe James left before the JSX came out, which is really a version of the Triple XXX. I have one of each and I love them both. If I could only keep one it would be the JSX. The new Penta is a great amp too. I bought it with the idea I would try it and sell it and I ended up keeping it. Right now I can't say enough about the Triple XXX, JSX and Penta. I like them all better than my 5150. It is truly ridiculous to have all these amps to play at home, but one amp for all these guitars also just doesn't seem right!
EVH - Peavey Split
The official signs started with the removal of the Custom Shop from the Peavey website, followed a couple days later by the total removal of the Wolfgang guitar line. Interestingly enough, as far as I know, no official announcement has been made by EVH. Peavey didn't make one until late December and then I believe they pulled it from their site. It is the end of an era with the Peavey Wolfgang and the end of a 13 year relationship between EVH and Peavey that started with the 5150 amp. The Wolfgang lasted over 8 years. The people at Peavey gave it their all for Ed and Peavey on the Wolfgang and I know there is some genuine sadness and even some bitterness (well placed) about this all ending and maybe more to the point, the way it ended. I think there are lot of interesting things about what happened here, but I will say that most of it is a side show. I think the net of it is that Ed just got bored and wanted to do something different and the rest of what happened are just reasons and excuses that support that, although if you had to pick a turning point it may have been when Joe Satriani joined Peavey on the JSX project. This is the feeling among some people at Peavey. Of course there are other circumstances, which contributed to the split. Who knows if any of them had been different if this might not have happened. My sense is that it still would have. Ed is not an easy guy to deal with, or so I hear repeatedly. I have no first hand knowledge of this.
By now everyone likely knows about the Charvel deal and the guitars Eddie sold on eBay. Originally the limited edition of EVH Art series guitars that would be striped and signed by Ed were announced and the first couple went up on eBay. On July 23rd, 2004 in conjunction with the NAMM - Nashville show Charvel and EVH announced a production EVH striped Charvel guitar that is still being offered for sale. The entire idea for the custom striped models and all the details (minus eBay) was conceived for Ed by Peavey but he didn't follow through. I have heard this from multiple people at Peavey. This included striped 5150 amps / cabinets to match. Of course they would have sold them through the dealers and not eBay. The Charvel lists for $3,300 and is generally being offered for about $2,500. I think the guitar is worth less than $1,000. It is a single pick-up guitar, basswood body, hard rock maple neck, with a basic paint job. Prices have already started to fade and demand seems to as well.
In the end what came out of the EVH – Peavey relationship was an awesome guitar that will be with us for a long time. There are plenty of great production models out there, so that anyone who wants a really nice one can find one and will be able to for a very long time to come. They should also hold their value, and some may rise quite a bit. I wish anyone reading this who is interested in these guitars could see the quality in my Custom Shop models and feel and play them. Some of them are just incredible, and especially at the price point. They rival ANYTHING else out there, period! I don't know if Ed fully appreciates what the Custom Shop produced. I have heard he has never even given them as much as a "thank you" for a job well done on his behalf.
Will there be another Wolfgang? Ed owns some of the design to the Wolfgang and has the right to take it somewhere else to be made if he wants to with limitations that may be a point of dispute in the future. On October 3rd, 2005 Ed did an informal interview with the two radio DJ's from Iowa who seem to be able to get him regularly for these interviews at his studio. Their site is www.TwoDorks.com. In this interview Ed says toward the end he has to go because he is completing a new Wolfgang design he needs to ship out so it can be available for the Winter NAMM show. He doesn't say who he is shipping it to but I would think it is Charvel / Fender. So maybe we will see a new Wolfgang. Peavey does own most of the design to the 5150 and is already producing a replacement (6505). At the January 2006 NAMM show there was no new Wolfgang.
The following picture is from the VHND.com site. Click the thumbnail for the bigger image. At the time I wondered what name would be on the headstock later this year? I guess we know the answer to that now (Charvel of course!)

Peavey Wolfgang Strings are GHS Strings Repackaged
You can't get the Peavey Wolfgang Strings anymore (other than old stock), but not to worry. They came from GHS anyway and I am pretty sure they are the GHS Boomers. I asked GHS and they Recommend the Boomers for the Wolfgang, which I don't think GHS can actually say. I believe Peavey just had them repackaged and branded for them. Peavey didn't produce their own strings for sure and they have used more than one brand over time, but mostly GHS on the Wolfgang.

See how the Wolfgang Guitar was Built!
Peavey use to have on their site a 25 minute tour of their Leakesville guitar production facility with the presentation focused on the building of the Wolfgang guitar. This presentation is well done and shows how they were built in Leakesville. It is very interesting for those of us not previously familiar with how a guitar is built. This piece is narrated by Hartley Peavey and is from 1996/97. I was unable to find it to link to, but Peavey graciously supplied it to me. The Leakesville facility they highlight in the presentation closed in April of 2003. Guitar production, including the EVH Custom Shop was moved to Peavey's main facility in Meridian. Here is a link to the presentation. It says it is 29 minutes but it actually runs for 25 minutes. The Birth of a Wolfgang - Peavey Wolfgang Factory Tour. It requires Windows Media Player. If it doesn't run for you, make sure you have this installed.
Finding the Build Date of your Guitar from the Serial Number
One of the most common questions I get is how do I find the date my guitar was built from the serial number. The only way to do this is to contact Peavey and ask them. They have a database and they will look it up for you if you ask. The place to ask is on the Guitar Forum at the Peavey website. Here is the link: http://forums.peavey.com:8080/~guitars
Some Pictures of EVH Playing Different Wolfgangs
According to someone at Peavey, they have produced over 200 guitars for Ed since the relationship was formed. Who knows what has happened to some of these as they certainly are not all at Ed's house. Here is a link to some pictures of Ed playing different Wolfgangs. Thanks Matt! If you have other pictures please forward them to me! EVH with Wolfgangs.
The Coolest Guitar ever from Rock's loudest guitar player
See the coolest guitar ever, created by Rock n Roll's loudest guitar player from Rock n Roll's loudest band. Click the link to see "Mr. Horsepower"!
Music - What I like
I suppose the music I like is somewhat relevant to the guitars as it shapes the framework of the sound I like. Of course I am a Van Halen fan, and I like all the other things you might expect from the same era such as Aerosmith, Montrose (my favorite when I was 16), Bad Company, Led Zeppelin, Frampton, Lynyrd Skynyrd, The Outlaws, The Allman Brothers, Golden Earring, Robin Trower, Boston, AC/DC, Skid Row, Billy Idol, Ted Nugent, Alice Cooper, The Doobie Brothers, ZZ Top, Deep Purple, Jimmy Hendrix ...... You get the picture! They say most people stop listening to new music by the time they are 30. I tried very hard with three daughters to embrace the new music and I must say that it has opened up a whole new world for me and given me something to share with my daughters. I rely on them to keep me in new music. A lot of it is absolute crap, but there is some good stuff too.
When is a "Custom Shop" Wolfgang not really Custom?
Peavey wanted to produce a Wolfgang with a Rosewood fretboard but EVH had to approve all Wolfgang variations and he wouldn't approve this. Peavey had already started producing them a few years back. They put them in storage. Their solution was to call these guitars "Custom Shop" models because that got them around the problem. I would have done the same thing. I don't blame Peavey for wanting to move these perfectly fine guitars, but the people who end up with these guitars and then sell them on eBay should be up front about what they really are. Of course this may not happen. There is nothing custom about most of these guitars other than having a rosewood fretboard, which does not cost anymore. Peavey didn't charge the dealers Custom prices for these. They only charged production prices regardless of whether it was called "Custom" on the dealer invoice. It is simply a preference item. Unless the guitar has other Custom options besides the rosewood fretboard it probably isn't a Custom Shop model where you could expect a better grade of wood for the top and neck among other things. There are quite a few of these hitting the market as Peavey has emptied their warehouse of these guitars. A lot of them are green. A foreign distributor bought the remaining inventory of 107 Wolfgang guitars that included about 70 of these guitars. Almost all of these are stop tails. Others were sold previously (trems and stop tails) and have been showing up on eBay and being advertised as Customs. Essentially Peavey sold off all the Wolfgangs that were still in inventory. Again, there is nothing wrong with any of this on Peavey's part and I don't wish to suggest there is.. I just don't want to see people buying what they think is a Custom Shop model, paying top dollar and then finding out what they really bought is just a regular production guitar with a rosewood fretboard. The value of these guitars is the same as any other production model with the same configuration.